CNN : Hong Kong student dies after fall in a parking garage during weekend protests

A memorial for Hong Kong University of Science and Technology
student Chow Tsz-lok, 22, in Hong Kong on November 8, 2019.

Hong Kong (CNN)A 22-year-old Hong Kong university student who suffered a severe head injury after falling in a parking garage close to the scene of protests has died, hospital authorities confirmed Friday, a development that could further inflame tensions in the semi-autonomous Chinese city.

Police say Chow Tsz-lok, a computer sciences student at Hong Kong University of Science and Technology (HKUST), fell from the third floor to the second floor of a parking garage in the residential area of Tseung Kwan O in the early hours of November 4.

The incident occurred as police clashed with protesters during a nearby anti-government demonstration.

The Hong Kong Hospital Authority confirmed that Chow died at 8:09 a.m. local time on Friday.

There is no indication that the student was involved in the nearby protest.

Chow had been in a coma and on life support after arriving at Queen Elizabeth Hospital in Kowloon on Monday morning.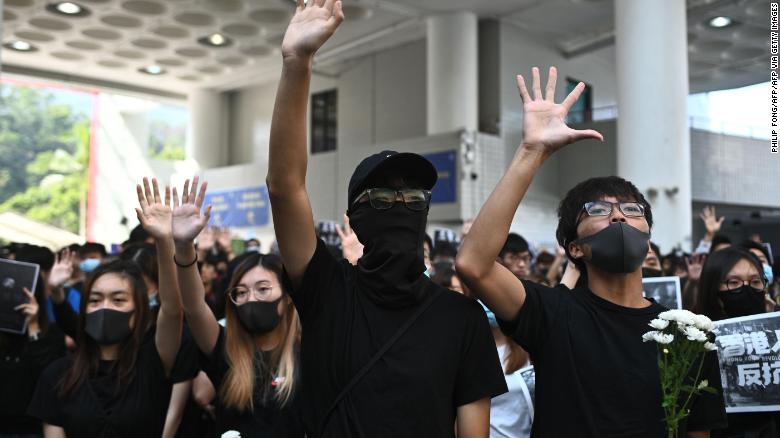 Students of the Hong Kong University of Science and Technology (HKUST) participate in a march towards HKUST president Wei Shyy's lodge in Hong Kong on November 8, 2019, following the death earlier in the day of student Chow Tsz-lok.

His death has prompted an outpouring of anger from anti-government protest groups, who claim that police actions on the night of the accident resulted in paramedics being temporarily unable to access Chow.

Police have strenuously denied responsibility for his death and maintained that at no point did officers obstruct ambulance or fire services from assisting Chow. A police statement released on November 5 described the allegations as "certainly false."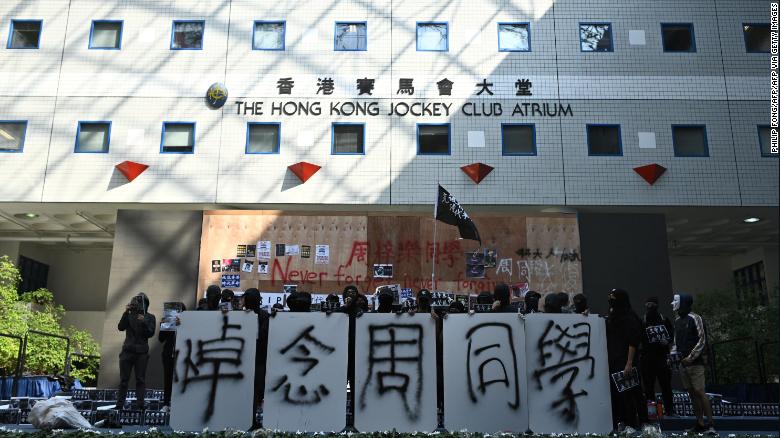 According to police, an ambulance was called at 1:11 a.m. local time Monday -- with ambulance crews arriving at the scene approximately 19 minutes later at 1:30 a.m. Hong Kong's ambulances pledge to arrive at the scene of the incident within 12 minutes of a call.

Students of Hong Kong University of Science and Technology (HKUST) hold signs mourning Chow Tsz-lok in Hong Kong on November 8, 2019.

On Friday, a Hong Kong government spokesperson expressed "great sorrow and regret" over Chow's death. "The police has stated earlier that they attach great significance to the incident and the crime unit is now conducting a comprehensive investigation with a view to finding out what happened."

Hong Kong student dies after fall in a parking garage during weekend protests